Scarcity of love in Love of Siam* (2007)
The first time I watched Thai actor Mario Maurer was a few years ago, when a dear friend passed to me a copy of Love of Siam, which some dubbed the "national gay film."
He was ecstatic when he handed me the CD, looking as if he could die soon after seeing the best film in the universe.

Soon after, young gays were already swooning, smitten by Maurer and Peachy. But since Peachy has the softer character, many prefer Mario (lest they become 'lesbians').
What I do not quite like is Maurer's passive role, which somehow left me a feeling that his acting was yet to bloom in full ripeness.
Among Maurer's films that I watched, this one contains the least chance of love happening–a Love That Cannot Be. But still, it was a good first film for the Communication Arts student Mario Maurer.
Moderation: Crazy Little Thing Called Love** (2010)
Maurer's fanbase in the Philippines and Southeast Asia grew and spread to the heterosexual lot when he starred in Crazy Little Thing Called Love.
One can observe that in forums and Facebook news feeds full of girls declaring love (!) to P'shone (Maurer's character).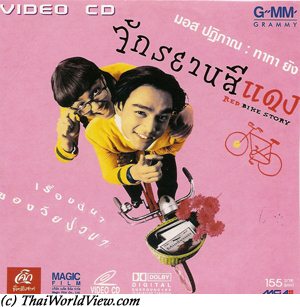 As a romcom, Crazy Little Thing succeeded in charming the audience who are tickled pink throughout the happy ending. It was a moderate mix of young love that reminded me of the first Thai film I watched, The Red Bike Story. I was looking for something to watch on cable TV when I was in highschool when this subtitled movie caught my attention. Its oldschool cinematography and storytelling made a dent on my impressionable mind; since then, I've always been a fan of Thai films.
Oversupply of romance: Suddenly It's Magic (2012)
 For the first time, I watched Mario Maurer on big screen two weeks ago, thanks to the tenacity of my friends who asked me to watch it with them.
Initially, the plan was to see it in high-end Greenbelt, but apparently, the Greenbelt crowd is not the market of Maurer/Star Cinema/ local films so we walked to Glorietta and lined up for Suddenly it's magic. It was 15 mins before showtime, and the movie house was full except the side seats, so we were seated at the farthest side. Around us were young girls and gays, titillated at the prospect of seeing the Thai actor in a Filipino movie.
The experience at the theater was forgivable. I had submitted to the fact that what we actually went for is to see Mario Maurer's skin zoomed 1000 times and bask in his 100 adorable smiles. I had also prepared myself for the Filipino romcom cheesy soup of girl falling literally on the guy then they look at each other's eyes, some song and dance numbers (ok, we're still doing this!), and kissing and hugging at the center of cheering and clapping people.
I wasn't quite prepared for the audience screaming and cheering whenever Marcus (Maurer) kisses or hugs or smiles at Joey (Erich Gonzales). This was, by the way, every five minutes, give or take. Maurer is clearly a hit in the Philippines among the youth–probably those who have seen him in The Love of Siam and Crazy Little Thing Called Love.
I couldn't help but compare this viewing with a cinema experience in Bangkok early this year together with the very friends who invited me to watch at Glorietta.
First of all, at the start of the film showing in Paragon, everybody stood to sing Thailand's national anthem (we presumed) while paying respect to the King of Thailand. Then we all sat quietly, and in silence we watched Home, beautiful love stories co-starring Peachy. There were heartwarming scenes and romantic ones, but the crowd was never as loud as the Filipino audience. I guess it's more fun in the Philippines?
Language issues
On a kind note, it's interesting how Suddenly it's magic used a couple of languages: Tagalog, English, Thai, and Ilocano; and a mixture: Thai-English, Taglish, Ilocano-Tagalog, Thai-Tagalog. It's very convenient for Marcus to have a Filipina maid (yaya) so he could understand and speak little Tagalog, when he went to the Philippines to lose himself (btw, It's More Fun in the Philippines campaign is in the movie, yes). When Marcus meets and speaks with Joey, I needed to persuade myself that Joey is indeed an Ilocana because her Ilocano is not 'hard' enough (I grew up with relatives and maids speaking the Ilocano of Ilocos, not Pangasinan nor Nueva Ecija, which has 'softer' Ilocano).
Another language issue I had was with Marcus' Thai mother speaking in English. It was incomprehensible. And this is something I somehow understand because the Thais are not good in English, but boy, I was lost in her lines just as how I was so lost in translation during my two-week stay in Thailand. Similarly, others may not understand the English thick with Filipino accent and nuances.
Aside from the small linguistic glitches, though, I appreciated Erich Gonzalez's acting. And Maurer's, too. He has grown from an actor with thin acting skills to a flexible actor who can deliver the demands of the script and make the audience believe the reality of the world he's in.
It's also worth noting that the story emphasizes the need for a healthy mix of romance, career, and other matters. We sure want all that Love can give, but the scarcity of time and other resources will push us to manage the economics of love, say, we can't stay in bed all day, all week, making love; we also need to go to work and be useful members of the society.
Hence, Suddenly it's magic gives us a mature Marcus in the end, played by a mature Maurer.
Maurer as Jan Dara,*** 2012-2013 (gasp)
Capping his rise to stardom in recent years, perhaps the most challenging and talked about role for Maurer would be Jan Dara, the 3rd remake of a film adapted from a 1960s novel.
The film is loaded with violence and eroticism that can drive an unprepared audience mentally wild. I watched the 2nd adaptation back in college and the cruelty and sex scenes rubbed off all the innocence left in me as a young student of a liberal university. It was a bit depressing, as far as I remember, but that just shows how powerful Thai films can sting emotions and mentality.
I wouldn't be surprised if Maurer's fanbase would once again spread out to different demographics after the release of Jan Dara (1 and 2)
Every Mario Maurer fan should be thrilled to watch this and the maturity of his career and acting.
***
Postscript:
This post was written cuz we're badly missing Bangkok:
Songkran riot aftermath.
At the temples.
_________________________
*[box] 
Love of Siam. 
The story is about childhood pals Mew and Tong, both coming to terms with their sexuality when they reached the age of confusion, the teenage years. The coming out for both of them was not easy (which is mostly the case in real life), because of their families and the expectations of the straight society.[/box]
 **[box] Crazy Little Thing Called Love. This is a cute feel-good romcom perfect for teenagers and teens at heart. The story shows Nam's serious case of crushing on an upper class guy, P'shone. Nam is an ugly duckling and quite easily, the movie has been a quick source of hope to girls living crazy dreams of impossible physical transformations and of requited love.[/box]***[box] Jan Dara. Part 1 was released in October 2012; Part 2 will be released next year. The last time it was adapted into film was in 2001.[/box]